November 24, 2008 | Filed Under Carrots, Cook (almost) Anything at Least Once blog, Fellow Bloggers, Green peas, Orzo, Pasta, Soups/Chowders/Gumbos, Sweet Peas, Vegetables | 19 Comments
Oh! The past couple of days have been extremely cold. This past Saturday was the coldest day so far. Freezing.
I wanted something hot. Something to warm me up. Then I remember a simple soup recipe from Haalo (Cook (almost) Anything at Least Once). I'd saved it a long time ago. It was time to pull it out. I liked that the recipe was simple. I like simple recipes. I like no fuss recipes. This was my kind of recipe.
It called for fresh peas. I bought frozen peas, which worked fine. The recipe also called for capsicum. Capsicum? What was that? I had no idea. After looking it up, I found that that it's a common name in Australia and Britain for pepper. In North America and Canada, it is commonly known as Bell Pepper ( In other countries it's also known as Cayene Pepper, African Chillies, Tabsco Peppers, Pimiento and more.). Ahhh! Now I understood. One Red Bell Pepper coming up. I love to learn something new from my fellow bloggers.
I prepared my soup. It tasted delicious! I offered some to my mom. At first she was hesitant and then she said, "yes."
She finished one bowl and then asked, "Is there any more soup?"
LOL! Yup! My soup tasted Mmm, Mmm good. We were both warmed up by this simple, delicious Vegatable Soup with Orzo.
Even one of my dogs got in on the action when I left a few drops in the bowl. I turned around for just a second and she reached up on her hind legs and pulled the bowl down to the ground from the table. She quickly cleaned it out with her long tongue. Yup! I'll say that even the dog enjoyed the soup, too.
Thanks Haalo for this recipe!
Paz
Little bit of soup left in the bowl, before the dog got to it. *sigh*
Vegetable Soup with Orzo
Cook (almost) Anything at Least Once
For two
1 large red onion, finely diced
1 large carrot, finely diced
1 small red capsicum, finely diced
1 large stalk of celery, finely diced
1 zucchini, finely diced
1 large tomato, diced finely
fresh peas
salt and freshly ground white pepper
handful of orzo, per person
I've made a very simple vegetable soup and the ingredients should only be used as a guide – feel free to substitute whatever you have on hand.
Place a little olive oil and butter into a saucepan over a medium heat – when butter has melted add the onion, carrot, celery and red capsicum and cook slowly until the vegetables start to soften (you may need to turn the heat down to ensure they don't colour).
Now add the zucchini and cook until it has started to soften and then tip in the tomato. Wait until the tomato starts to break down before adding the orzo followed by enough boiling water (or stock if so desired) to cover the vegetables by about 2cm/1inch.
Turn the heat up to maintain a boiling temperature and cook for about 5 minutes. Remember to keep stirring so the pasta doesn't stick to the bottom of the pan.
Add the fresh peas and then taste and season with salt and freshly ground white pepper.
Turn off the heat and cover and let it sit for about 10-15 minutes – during this time the pasta will finish cooking by absorbing the cooking stock but won't become mushy.
Before serving add a little more stock if it looks a little dry and bring it back to temperature.

March 18, 2008 | Filed Under Carrots, Cook (almost) Anything at Least Once blog, Vegetables | 25 Comments
Haalo of Cook (almost) Anything at Least Once recently made an enticing dish of roasted multi-colored carrots — purple, red, orange, whiteand yellow. When I go to the grocery store, all I ever see are orange carrots. I never knew they came in other colors other than orange. See what I learn from my fellow food bloggers? <very big grin> Well, I didn't have the other colors but I did have a whole bunch of orange carrots in my fridge. So, I pulled them out to make my own oven roasted carrots. Guess what? I liked it! I really liked it! If I ever find the other colored carrots (maybe at a farmer's market), I'll buy them. Thanks, Haalo, for the recipe!
Paz
Oven-roasted Carrots
Cook (almost) Anything at Least Once
Assorted carrots
Olive oil
Sea salt and freshly ground pepper
Garlic cloves
Orange-infused olive oil, optional
Wash the carrots well and trim the tops. I've only peeled those that had blemishes. I've also cut the larger ones in half lengthways to even out the size and make sure they will all cook in roughly the same amount of time.

Drizzle them in a little olive oil, then grind over with salt and pepper – toss them well and then lay them out on a lined tray. Stud unpeeled garlic cloves amongst the carrots – these will caramelise in their skins as the carrots cook.
Bake in a preheated 180°C/350°F until slightly softened – turn them after 20 minutes to make sure they cook evenly. I like to keep a bit of a bite to the carrots but you if you like them softer, just cook them for longer.
You can serve them straight from the oven but I like to add an extra touch – a light drizzle of orange-infused Olive oil just lifts the flavour and adds an appealing citrus note.
August 4, 2006 | Filed Under Carrots, Salad, Vegetables, Weekend Herb Blogging | Leave a Comment
I found this unusual salad on Trembom in English. I call it unusual because I've never had a carrot and peanut salad before.
I'd been dying to try it, but didn't have the peanut and sesame oil. When I finally bought the oils, I got to working in the kitchen. It didn't take much work. That's my kind of recipe – the easy kind.
I chopped baby carrots in half, added the peanuts, and then covered them with the red wine vinegar, peanut oil, and sesame oil mixture. Very different! I liked the combination of flavors and the texture of the salad. Can we say "Crunchy?" Boy, was it ever!
Valentina of Trembom in English recommends that if you decide to grate the carrots instead of chopping them, do not to grate them finely because it will take away from texture of the salad. I agree. The best part of the salad is the crunchiness of the carrots and peanuts.
This salad is great tasting, especially during these hot summer days. What's more, its major ingredient – carrots – have great health benefits: They are rich in antioxidants and vitamins and help fight against cancer and cardiovascular diseases. Could you ask for anything more? If you like carrots and peanuts, try this salad!
This is my entry for Weekend Herb Blogging started by Kalyn of Kalyn's Kitchen. Read about this event below.
Paz
The Rainbow Room's Carrot and Peanut Salad
Adapted from Forever Summer with Nigella – Nigella Lawson
4 medium carrots peeled and coarsely grated or cut into chopstick shape
75g salted peanuts
2 Tablespoons Red Wine Vinegar
2 Tablespoons Groundnut oil (*Peanut oil)
Few drops of Sesame oil
Throw the carrots in a salad dish followed by the peanuts and give it a good mix. In a separate container add the vinegar, groundnut and sesame oil. Pour it over the salad and just have a good time chewing away. Crunch, crunch…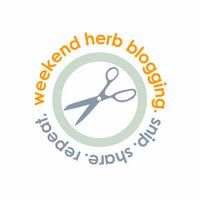 *One can blog about herbs, plants, vegetables, or flowers for Weekend Herb Blogging (WHB).
To see the list of other interesting WHB posts, go to guest host blog
Calendula & Concrete
, this coming Monday.
Interested in participating? Check out the
guidelines
.