September 30, 2006 | Filed Under Memes | 1 Comment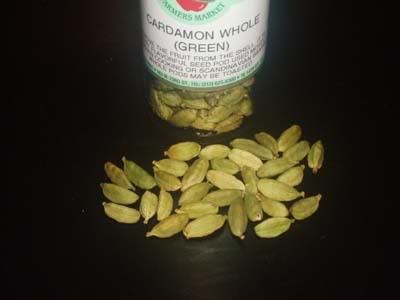 Cardamom Pods
Back in June (Oh, my goodness! Has it been that long!?) Dan from Saltshaker tagged me for
The Butterfly Effect meme
, which he'd created. Time flew by and for several different reasons, I never responded to the meme. A lot of things were going on around me and I simply wasn't able to get to it.
Annoyed and disappointed Dan took drastic measures into his hands by casting a kitchen pox on those he tagged who hadn't responded "May their hollandaise curdle and their mayonnaise separate," he wrote.
Yikes! After I begged and told him I still intended to do the meme, he somewhat reluctantly removed the pox — temporarily. The threat covertly still hung over my head.
The other day, I tagged Dan for the Five Things to Eat Before You Die Meme and he put me to shame by doing it immediately. *sigh*
Okay, Dan: Finally, here are my answers to The Butterfly Effect Meme. I thought about doing it a little bit at a time, like Ilva. I liked that idea but since I've kept you waiting for so long, here it is in its entirety. I hope the pox is now removed permanently.
The Butterfly Effect Meme asks you to name food items or events that changed your foodie life. Specifically you are asked to recall "an item, person, event, or place" that affected you profoundly – something that created a moment you can look back at and say "that was a defining moment." It doesn't have to be "big, splashy" things. Instead, it can be something "small and simple" – something that changed the way you view the world.
These are the categories:
1. An ingredient
2. A dish, a recipe
3. A meal (in a restaurant, a home, or elsewhere)
4. A cookbook or other written work
5. A food "personality" (chef, writer, etc.)
6. Another person in your life
Okay, here are all the defining moments in my baby foodie life span:
1. An ingredient – CARDAMOM: I had never even heard of it before. Then Michele sent me this awesome recipe for Basmati and Nut Pilaf. I had an adventure shopping for the Cardamom. Once I found it, I was so glad. It made a nice difference in my recipe and I've used it often, since. I love this spice!
2. A dish, a recipe – TIRAMISU: You may think this is not a big deal but being able to make tiramisu was a big moment for me. After I successfully followed the recipe to make this Italian dessert, I realized that perhaps I had it in me to learn how to prepare other recipes. That was very exciting for me. This occurred in the early stages of The Cooking Adventures of Chef Paz. You can read about it here.
3. A meal (in a restaurant, a home, or elsewhere) – SPINACH STEW: I mentioned this stew in my childhood food memories meme. My mom used to make it but we haven't had it in the longest time. Its main ingredients include spinach and shrimp. I finally decided to attempt to make it and asked my mom for the ingredients. She half-heartedly mentioned them. I think she didn't believe I was serious. After a thousand questions, I set out to replicate the stew. When it was ready, I served it to my mom. She hesitantly brought the fork full of stew and rice to her mouth. I closely watched the diplomatic look on her face (ready to tell me it tasted fine even if it didn't) change to a look of disbelief and then pleasure as she savored her meal. "This is very good." She nodded her head with approval. Later, she asked for seconds. Now, that was another defining moment in my foodie life!
4. A cookbook or other written work – THE FANNIE FARMER COOKBOOK and THE FOOD OF LOVE by Anthony Capella. The former is my first cookbook. The latter is a novel that inspired me to attempt two recipes listed in the back of the book. To my surprise, I was successful. Again, it took place in the beginning stages of my cooking adventures. With each success and cooking venture, I became encouraged to continue.
5. A food "personality" (chef, writer, etc.) – GIADA DE LAURENTIS and RACHEL RAY: There are more but these two T.V. chef personalities immediately come to mind. Especially in the beginning, I watched a lot of Food Network cooking shows. It would take me about an hour and a half to make Rachel Ray's 30-minute meals. Hehehe! But the point is that I made them! These were all defining foodie moments for me – someone who didn't know how to boil water.
6. Another person in your life – FOOD BLOGGERS: All the food bloggers that I've come across. Everyone's been so inspiring and creative. I love when I find a recipe from their sites, try it, and it actually comes out. It's edible! Yay for me! Thanks, everyone! Keep cooking and happy food blogging!
Tag
I would like to tag the following for this meme:
1- Sravanthi from When My Soup Came Alive
2- Neil from Food for Thought
3- Elizabeth from Blog from OUR Kitchen
4- Gattina from Gattina
5- Haalo from Cook (Almost) Anything at Least Once
6- Anyone who wants to participate
If you decide to participate, please let Dan know at: dan AT saltshaker DOT net
Also, don't forget to provide a link to his original post: http://www.saltshaker.net/20060630/the-butterfly-effect
Oh! And let me know, too, that you participated. I'd love to read about your experiences.
Thanks, Dan!
Paz