October 28, 2005 | Filed Under Kitchen Utensils/Gadgets | Leave a Comment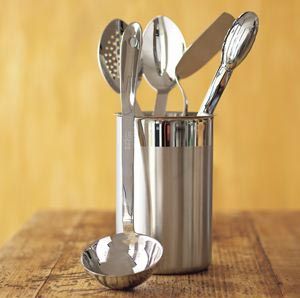 Five piece stainless-steel tools from Williams-Sonoma.com
I recently read an old Parade magazine column by Sheila Lukins called "What's Cookin.'" It featured an article entitled, "10 Kitchen Tools I Can't Live Without." (Page 8, April 3, 2005).
The author listed the following 10 kitchen tools, which she found necessary in the kitchen. I have to agree with her on most of them.
Here are the items:
Food processor (Just bought one)
Electric juicer (Don't have one. Would be cool to have one.)
Pepper grinder (Need a new one. I have a cheap one that's annoying)
Mini-chopper (I'm not sure about this one.)
Food scale (I have a small cheap one, but rarely use it.)
Measuring cups (Yes!)
Microplane rasp (Oh, yeah!)
Measuring spoons (Could always use new ones)
Instant-read meat thermometer (Hmmm… I dunno about this one…)
Mixing bowls (Could definitely use these)
What tools do you consider necessary in your kitchen?
Paz