November 27, 2008 | Filed Under Cook (almost) Anything at Least Once blog, Corn, Eggs, Fellow Bloggers, Green Onions, Scallions, Spring Onions, Holidays, Poultry, Soups/Chowders/Gumbos, Thanksgiving, Vegetables | 18 Comments
Yes, more soup.
It's still cold here and I'm still tired and stressed. So, I decided to make more soup, using a recipe I found on Hallo's blog.
Today, we celebrate Thanksgiving Day in the States. I never had Chicken and Sweet Corn Soup before as part of a Thanksgiving meal, but this is what I wanted to eat. It was definitely a good soup for a weary body and soul like mine. I felt much better after eating it.
What am I thankful for this holiday season? Many things. I'm especially thankful for all of you who stop by my blog with your very kind and encouraging comments. Without you, it would be no fun here.

Paz
Chicken and Sweet Corn Soup
1 litre chicken stock
4 slices ginger
1 tablespoon finely grated fresh ginger
4 chicken thigh fillets, skinless, sliced finely
420 grams canned creamed corn
2 cups corn kernels
salt and freshly ground pepper
sesame oil
2 tablespoons corn flour mixed with a little water, optional, to thicken soup
1 egg white, lightly whisked with 1 tablespoon water

Place the chicken stock and sliced ginger into a pot and bring to a simmer so to allow the ginger to infuse into the stock.
Separate the white from the green parts of the spring onions. Slice both finely.
Heat a little neutral oil in a large pot and when it's come to temperature, add the sliced white part of the spring onion and the ginger. Let this gently sauté for a couple of minutes before adding the chicken pieces – just add a quarter of the chicken at a time. When the chicken has changed colour, add the creamed corn and corn kernels.
Turn the heat up a little and stir this well before adding the stock (strain off the ginger slices). Add half the sliced green parts of the spring onion and let the soup simmer until the corn has cooked through.
Taste and season with salt and freshly ground pepper and a few drops of sesame oil.
If you prefer a thicker soup, then at this stage, stir in the mix of corn flour and water.
Just before serving add in the remaining sliced spring onion greens and while stirring the soup, drizzle in the lightly whisked egg white – this sets as soon as you add it to the soup so it's important to keep stirring to break it up and get a speckled finish.
November 23, 2005 | Filed Under Holidays, Thanksgiving | Leave a Comment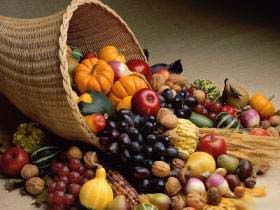 Thursday, 24 November, is Thanksgiving Day in the U.S., where we use the occasion to celebrate and reflect on our blessings and the things for which we're thankful.
While I'm thankful for many things everyday and not just on the coming holiday, here is my simple Thanksgiving list, especially as it relates to my blog.

I am thankful for:
The many foodblogs I read with glee. They are all so fun and inspiring.
The foodbloggers.
The wonderful people I've met as a result of the foodblogs.
All the things I've learned about food and cooking.
All those who patiently answer my questions about food and cooking.
The foods I'm able to cook.
The many fantastic recipes I find on the blogs as well as the cooking shows.
Everyone who has stopped by my blog and their messages.
Thanks, Everyone!
Paz