July 2, 2006 | Filed Under Food Blogging Events, From My Rasoi, Rice | 1 Comment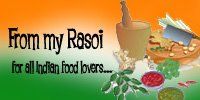 Caution: Make sure you eat before reading the following FMR posts. The host is not responsible for the rumbling that may start from the pit of your belly when you see the delicious dishes below.
Thanks, everyone, for participating in the sixth
From My Rasoi
monthly food celebration event. The brainchild of Meena from
Hooked on Heat
, 'rasoi' means 'kitchen' in Hindi, the language spoken in most of India.
I chose RICE for June's food theme. It's global and versatile. Almost everyone eats rice — vegans, vegetarians, meat eaters, and even those who are gluten intolerant. One can also use rice flour as well as the grains.
Part of Meena's rules for the event dictate that one can submit recipes that are Indian or non Indian in flavor. Our fellow food bloggers have presented an interesting array of 'rice' dishes.
Here is the lineup:
Risotto Tricolore
from
Cream Puffs in Venice
In support of Italy in the 2006 FIFA World Cup, Ivonne waves
the "proverbial Italian flag in the form of the rice dish" Risotto Tricolore.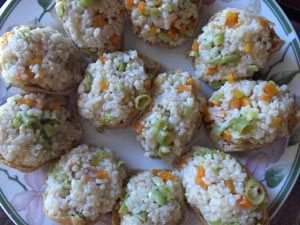 Inarizushi from Kafka na Praia
Karen prepares rice mixed with vegetables, Japanese style.

Paneer Biryani from Hooked on Heat
Meena prepares an enticing-looking Indian recipe for
Biryani (a one pot rice meal) with Paneer (cottage cheese).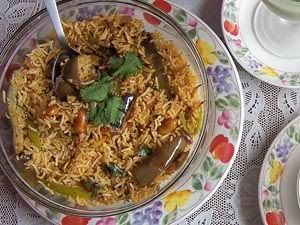 Vangi Bhath (Eggplant rice) from Vineela's Cooking
Vineela shares a delicious-looking Indian eggplant-rice recipe.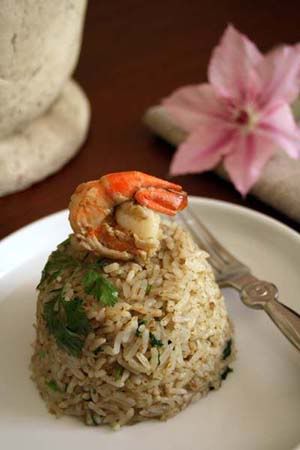 Crouching Tiger, Hidden Dragon Rice from Rice and Noodles
Mae presents another delectable-looking one pot rice dish,
topped with tiger prawns.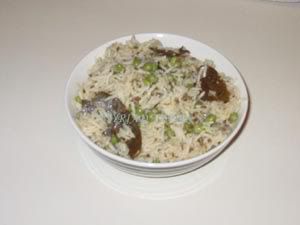 Jeera Rice with Peas from Myriad Tastes
Lera cooks up an "aromatic and appetizing Indian rice dish."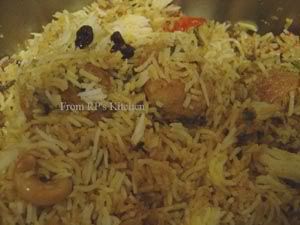 Fish Biriyani from My Workshop
RP makes a tasty-sounding rice dish with King fish.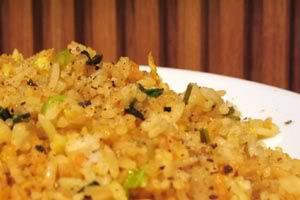 Thai Basil Fried Rice from Is it EDible?
Ed turns left over steamed rice and Thai basil into a filling first-class meal.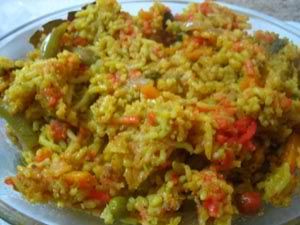 Vegetable Biriyani from Samayal
Sudhav shares a lovely-sounding vegetable rice dish
she learned from her mother-in-law.

Soya Chunks-Vegetable Pulao from
Sailu's Indian Food Andhra Recipes
Sailu makes a healthy rice recipe using soya chunks,
mixed vegetables and fried bread cubes.
It's a meal that her husband and son ask for seconds!

Sakharbhaat from Happy Burp
Vaishali prepares this mildly spiced sweet rice dessert,
which is her father's favorite birthday treat.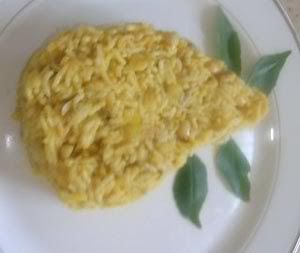 Mango Rice from Cascading Flavours
Ramya creates this mouthwatering-sounding mango rice recipe,
which is served with roasted peanuts.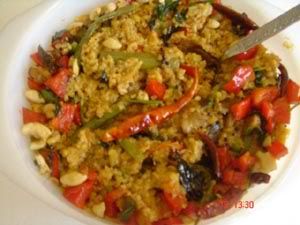 BisibeleBath from Indian Potpourri
Indianadoc presents this "hot and spicy medley of
vegetables, dal and rice."
Easy Biriyani
from
En Ulagam
For potluck occasions, Revathi always falls back on this rice recipe, in which a bunch of mint is used.
Time to start a new post. Please go to the next post below for a continuation of the FMR #6 contributions. Thanks!
Paz