August 9, 2006 | Filed Under Blogger Postcards, Food Blogging Events | Leave a Comment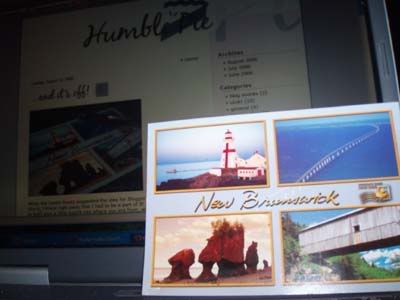 Postcard sent from New Brunswick, Canada by Gillian from Humble Pie
Click on photo for larger image

I recently participated in the BPW event organized by Meeta and happily sent off my post card to my assigned buddy. The next step: Wait to receive my card. I felt like a kid on Christmas Eve, waiting with excitement for Christmas Day to arrive, so that I could tear open my gifts. I waited and waited and waited. Okay, maybe I didn't wait that long, but if felt like I'd waited an eternity. I hadn't received my card.
Disappointment took over and I didn't think I would get a card. Perhaps my post card buddy forgot about me. Perhaps the card got lost. I felt like the child who found out that Santa Claus had skipped her home. Sniff! I gave up on receiving a card and stopped checking the mailbox.
A few days later, my sister picked up the mail. "You have a postcard," she told me.
"Postcard?" I asked with a little suspicion. I didn't quite believe her.
She handed it to me, and I recognized the card as one that I'd seen one of the food blogs. My heart started beating faster with excitement. My card had arrived! It was a collage of different sights of New Brunswick, Canada. Beautiful! I'd heard of New Brunswick, New Jersey (U.S.A.) but not Canada. Interesting!
Gillian from Humble Pie, who turns out to be my postcard buddy, wrote a delightful note. She has such a nice, neat handwriting (I began to feel guilty for the chicken scratch I wrote on the back of the card I sent out.).
Thanks, Gillian! I've put New Brunswick on my list of places I'd love to visit. Meeta, thanks again for putting this postcard event together. This was lots of fun — just like Christmas time!
If you're interested in participating in the BPW event, another is tentatively planned for September October. Check out What's for Lunch, Honey? for future updates.
Paz
August 1, 2006 | Filed Under Blogger Postcards, Food Blogging Events | Leave a Comment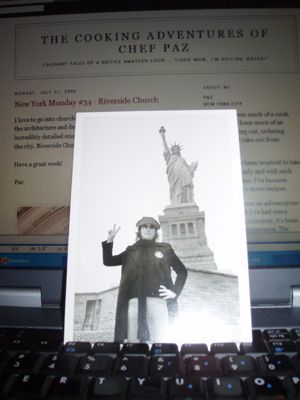 Meeta from What's for Lunch Honey? came up with a wonderful idea – a postcard event known as Blogger Postcards from around the World (BPW). Sixty-four food bloggers are participating in this event.
The basic idea is that each blogger who participates gets a blogger buddy, sends a postcard, and receives one in return. As bloggers from all over the world take part in this event, it's fun to see from whom and where they'll receive a card.
I love to receive and give postcards (letters, too!)! I even have two boards full of some of my favorite postcards hanging up on the wall in my room. Naturally, I loved the BPW idea and signed up! I've received the name and address of my postcard buddy and this is the postcard, which I'll send to Canada.
New York City is filled with many legendary people and landmarks. I pass by celebrities, as well as different famous spots all the time.
With that in mind, I chose a card that shows two famous New Yorkers – the late John Lennon and the Statue of Liberty.
John is no longer around (physically) but tourist still flock to places in the city (his apartment building and Central Park) associated with him. I liked that he exhibits the peace sign in this postcard. We need it more than ever, today.
The Statue of Liberty, which represents freedom to many, is almost always on visitors' list of places to visit in New York.
I hope my postcard buddy likes this card. I can't wait to receive mine!
If you're interested in participating in this event, Meeta will hold another one in September. Visit her blog for future details.
Thanks for putting this together, Meeta!
Paz