February 8, 2006 | Filed Under Basil, Cilantro, Corn, Crabs, Fellow Bloggers, Food Blogging Events, Herbs, Parsley, Saltshaker blog, Seafood, Soups/Chowders/Gumbos, Stephen Cooks blog, Tarragon, Vegetables, Weekend Herb Blogging | Leave a Comment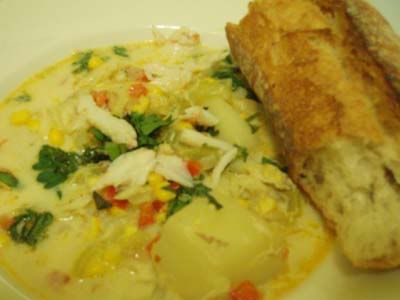 I've never been much of a chowder fan, although recently I saw an enticing clam chowder recipe that made me interested in trying it.
Then, the other day, I stopped by Saltshaker and found another recipe that immediately caught my attention: Crab and Corn Chowder. I'd never heard of this before. I like corn and crabmeat, so, those two ingredients were the deal breaker for me. I made a mental note to try the recipe sometime in the near future, preferably on a very cold day.
However, the next morning with unseasonably warm weather, I woke up with the recipe in mind and like a person hypnotized, found my way to the store to buy the ingredients needed to prepare it – corn, potatoes, red bell pepper, crabmeat and herbs. Oh, so many wonderful herbs! By the way I would have used this recipe for my Weekend Herb Blogging post but I was too late.
The herbs involved a mix of cilantro (coriander), basil, tarragon and parsley. How exciting for me (cilantro being one of my favorites!)!
I returned home and started preparing the ingredients to cook. First, I boiled the corn and then made a corn stock. Yes, that's right. Corn stock. Me. Actually, it was quite easy – boil the corncob and use the results in the recipe.
Call me weird, I've become excited about the idea of making stock out of different food products. Initially, I only knew of chicken, beef, and later fish stock. Then from Stephen, I learned about lamb and red shrimp broth and some of its uses. Really cool! So, now I can add corn stock to my list. That's okay, you can laugh at me.
My cooking momentum was interrupted when I had to walk the dogs and then found out I forgot to buy half and half milk. I had to run back to the store. I almost used canned evaporated milk but didn't have enough. It's probably better that I didn't use the can milk since I'm sure it may have altered the taste of my first time chowder. Can anyone tell me if there's a difference?
The meal is not hard to make and once I returned from the store, I continued cooking. My favorite part of preparing the meal was chopping the aromatic herbs to add to the chowder. As their combined scents wafted up, making me happy, I started to do my happy dance (See #9 of my culinary confessions.).
Soon, my crab and corn chowder was ready and I served it with crusty bread as the recipe suggested. Everything tasted fresh and delicious, from the potatoes to the crab to the vegetables. The mixed herbs especially gave it that added special flavor.
I'm glad I didn't wait a day longer to try this crab and corn chowder.
Paz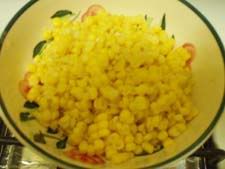 The corn kernels removed from the cob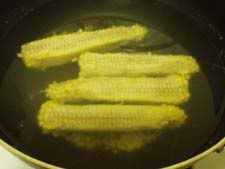 Making my corn stock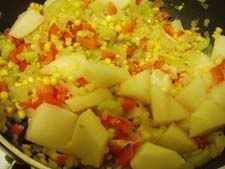 Most of the ingredients together in a pot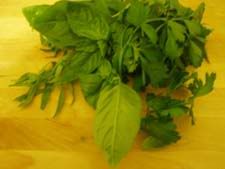 Cilantro, basil, tarragon and parsley ready to be chopped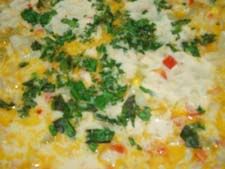 The finished product
Ed. Note: I'm submitting this post for Weekend Herb Blogging #19. The herbs for this week are cilantro, basil, tarragon, and parsley, pictured above. Thanks, Kalyn!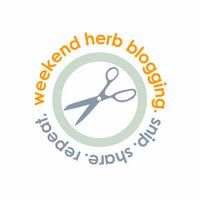 *One can blog about herbs, plants, vegetables, or flowers for Weekend Herb Blogging (WHB). To see the list of other interesting WHB posts, go to Kalyn's Kitchen, Sunday.
November 11, 2005 | Filed Under Beyond Salmon blog, Fellow Bloggers, Seafood, Stephen Cooks blog, Trout | Leave a Comment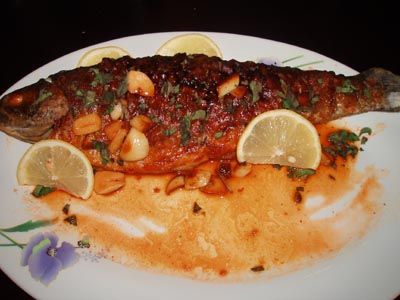 Lately, I've been going to the fish market more often. In becoming adventurous by buying different types of fishes, I've found that their names can be confusing – Rainbow trout, white trout, speckled trout, native trout, steelhead, kamloop trout, green trout, striped bass, chilean sea bass, white bass, silver bass, black bass, bigmouth bass, smallmouth bass, calico bass, strawberry bass, oswego bass, mediterranean bass, branzino, sea bream, dorado, orata… the list goes on….
How many types of trout and bass are there? Which one am I supposed to buy? Is one better over the other? What difference do they make? The confusion makes a neophyte cook and fish buyer like myself want to stand by the fish counter and scream in bewilderment.
After making bluefish, the other day, I wanted to try Stephen's Pan Roasted White bass with Wine-Butter Sauce recipe. His instructions suggest using trout if white bass is unavailable. The fish market didn't have "white" bass but had other kinds of bass, which I was unsure whether to buy or not. I ended up buying rainbow trout, still unsure of whether it was the right kind of "trout" to purchase.
The meal preparation went with ease and the meal was very good. The fish turned out perfectly and the wine-butter sauce added even more to its succulent taste. Thanks for the recipe, Stephen!
Since making the trout, I've discovered the differences and similarities of the fish mentioned above, from Helen. I'm trying not to take all the varying fish names so seriously, as I've learned that most of them are marketing names and differ not only from city to city but also store to store. I've found out that rainbow trout is the same as white trout, so I did buy the correct fish. I've also learned that Chilean sea bass is not a bass at all, but instead a Patagonian toothfish. Mediterranean bass is also known as Branzino, Sea Bream is the same as Dorado or Orata.
I'm getting quite an education on fish since I've started to cook. The experience is turning into fun!
Paz