February 13, 2008 | Filed Under New York Monday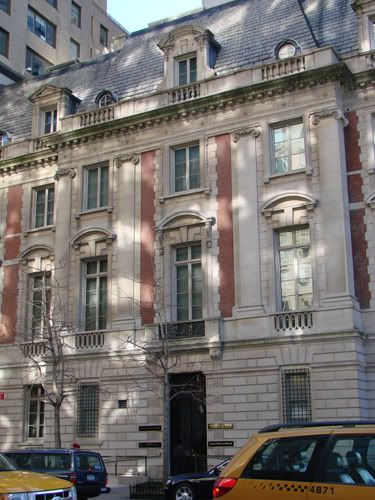 Outside the Neue Galerie
(A stately Louis XIII-style Beaux-Arts styled building)
Okay: So, it is not Monday. I know. 😉 I'm sorry I'm very behind with my New York Monday post. Life got in the way of my blogging, unfortunately, but here I am. Better late than never, right?

This week I got to meet fellow blogger Elizabeth of The House in Marrakesh. By the way, her blog and that of Maryam's, My Marrakesh, have been mentioned in the March 2008 issue of National Geographic Traveler — Marrakech Destination Guide. Very exciting! Congratulations, ladies!

So, we went to the Neue Galerie on Fifth Avenue, a museum that showcases early twentieth-century German and Austrian art and design. At the moment, paintings and drawings by Gustav Klimt are on display. The museum includes a bookstore, design shop and two Viennese cafés. Of course, we stopped at the cafe, as we wanted the experience, like the ones we always see on Merisi's Vienna for Beginners. I'll tell you what we ordered in another post.
Continue to have a good week, everyone. It's almost Friday! Yay!

Paz
Inside
Stairway leading up to the Galerie
Comments