August 12, 2006 | Filed Under Weekend Herb Blogging | Leave a Comment
It's Weekend Herb Blogging time and I'd like to spotlight the herb Sage. Its name comes from the Latin word, which means health or healing powers. As far back as the Dark Ages, sage has been used for two purposes – culinary and medicinal.
Ancient Greeks and Romans used sage to do things like promote long life, cure sterility, snakebites, and depression. You can find a few modern medicinal recipes here. Sage is the best herb choice for killing bacteria.
This week, I made a jar of Marinated Feta from a recipe I saw on Haalo's blog, Cook Anything (Almost) Once.
The ingredients contained a mixture of herbs. To achieve an Asian flavor in her marinated feta, Haalo chose to use coriander, chives, lime leaf, and parsley.
I opted for the Mediterranean taste by using fresh sage, basil, rosemary, oregano and thyme. It tasted very nice. Good feta and olive oil are the key here. I love feta cheese and this was a nice and different way to prepare it. Next, I'll try Haalo's Asian flavored version.
Domestic Cat also has a different recipe for Marinated Feta, which I plan on trying in the near future.
Thanks Haalo and Tülin for such enticing recipes!
By the way, recently, Sravanthi wrote a nice article for The Hindu Business Line called 'Hot off the… blog!' It's about the world of food blogging. Our fellow food blog friends Sailu of Sailu's Indian Food & Andhra Recipes, Napur of One Hot Stove, Sury and Cesar of (Lima) Beans and Delhi Cha(a)t, Vineela of Vineela's Cuisine, Mae of Rice and Noodles, and Indira of Mahanadi are mentioned. So am I. You can read the article here.
Paz
Marinated Fetta
1 slice of your favourite fetta cheese
assorted soft herbs
freshly ground pepper
2 garlic cloves, very finely sliced
fresh chilli, to taste, very finely sliced
good olive oil
First thing is the pat your slice of fetta cheese dry on a paper towel. Next dice into a smallish cube (maximum 1cm width) and place in a bowl.
Prepare the herbs – I like to maintain a theme with my herbs. This version will have Asian flavours so I'm using, coriander, chives, lime leaf, parsley. If I wanted a more Mediterranean feel, I'd use basil, sage, rosemary, oregano and thyme. Feel free to experiment with your favourites.
Add the sliced garlic and chillies and finely chopped herbs to the cheese. Carefully toss through. Generously grind over the top with fresh pepper, then toss again.
Pour enough olive oil (use a good oil – why sacrifice the dish and use a horrible tasting oil) until it covers the cheese. Seal the bowl with plastic wrap and place in fridge to allow the flavours to develop. You can if you like, place the herb and cheese mix into a sterilised jar, cover with oil and seal for a more longer life product.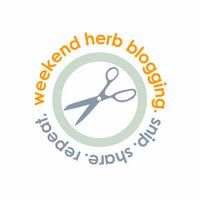 *One can blog about herbs, plants, vegetables, or flowers for Weekend Herb Blogging (WHB). To see the list of other interesting WHB posts, go to
Kalyn's Kitchen
, Sunday afternoon.
Interested in participating? Check out the
guidelines
.