August 9, 2006 | Filed Under Blogger Postcards, Food Blogging Events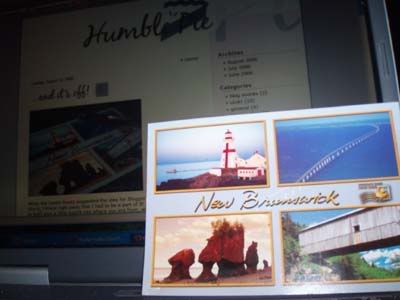 Postcard sent from New Brunswick, Canada by Gillian from Humble Pie
Click on photo for larger image

I recently participated in the BPW event organized by Meeta and happily sent off my post card to my assigned buddy. The next step: Wait to receive my card. I felt like a kid on Christmas Eve, waiting with excitement for Christmas Day to arrive, so that I could tear open my gifts. I waited and waited and waited. Okay, maybe I didn't wait that long, but if felt like I'd waited an eternity. I hadn't received my card.
Disappointment took over and I didn't think I would get a card. Perhaps my post card buddy forgot about me. Perhaps the card got lost. I felt like the child who found out that Santa Claus had skipped her home. Sniff! I gave up on receiving a card and stopped checking the mailbox.
A few days later, my sister picked up the mail. "You have a postcard," she told me.
"Postcard?" I asked with a little suspicion. I didn't quite believe her.
She handed it to me, and I recognized the card as one that I'd seen one of the food blogs. My heart started beating faster with excitement. My card had arrived! It was a collage of different sights of New Brunswick, Canada. Beautiful! I'd heard of New Brunswick, New Jersey (U.S.A.) but not Canada. Interesting!
Gillian from Humble Pie, who turns out to be my postcard buddy, wrote a delightful note. She has such a nice, neat handwriting (I began to feel guilty for the chicken scratch I wrote on the back of the card I sent out.).
Thanks, Gillian! I've put New Brunswick on my list of places I'd love to visit. Meeta, thanks again for putting this postcard event together. This was lots of fun — just like Christmas time!
If you're interested in participating in the BPW event, another is tentatively planned for September October. Check out What's for Lunch, Honey? for future updates.
Paz
Comments