August 1, 2006 | Filed Under Blogger Postcards, Food Blogging Events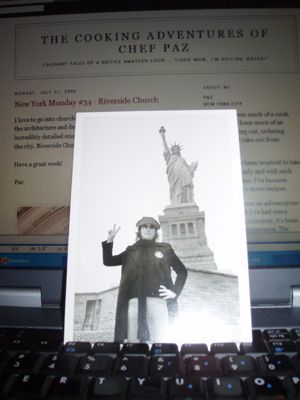 Meeta from What's for Lunch Honey? came up with a wonderful idea – a postcard event known as Blogger Postcards from around the World (BPW). Sixty-four food bloggers are participating in this event.
The basic idea is that each blogger who participates gets a blogger buddy, sends a postcard, and receives one in return. As bloggers from all over the world take part in this event, it's fun to see from whom and where they'll receive a card.
I love to receive and give postcards (letters, too!)! I even have two boards full of some of my favorite postcards hanging up on the wall in my room. Naturally, I loved the BPW idea and signed up! I've received the name and address of my postcard buddy and this is the postcard, which I'll send to Canada.
New York City is filled with many legendary people and landmarks. I pass by celebrities, as well as different famous spots all the time.
With that in mind, I chose a card that shows two famous New Yorkers – the late John Lennon and the Statue of Liberty.
John is no longer around (physically) but tourist still flock to places in the city (his apartment building and Central Park) associated with him. I liked that he exhibits the peace sign in this postcard. We need it more than ever, today.
The Statue of Liberty, which represents freedom to many, is almost always on visitors' list of places to visit in New York.
I hope my postcard buddy likes this card. I can't wait to receive mine!
If you're interested in participating in this event, Meeta will hold another one in September. Visit her blog for future details.
Thanks for putting this together, Meeta!
Paz
Comments