May 23, 2006 | Filed Under Rice | Leave a Comment
Some time ago, Helen of Beyond Salmon came up with a well-rounded meal from the leftovers in her fridge, which enticed me to try.
The ingredients included fish, asparagus, onions, avocado and something I'd never heard of or tasted before – Forbidden Rice.
The name alone captured my interest. Also known as Black or Purple rice (obviously because of its color), an interesting myth surrounds Forbidden rice. It was considered "forbidden" because it was supposed to have mystical powers to advance long life. As a result, only emperors were allowed to eat this special rice.
Luckily, since times have changed, those of us not born under official emperor lineage are no longer forbidden to eat this rice. Anxious to taste it, I looked for it when I went shopping and to my surprise, found it at Citarella's, one of the food markets where I do my shopping.
I prepared the meal according to Helen's instructions and found the rice to have a unique taste. I would agree with Helen's description of its taste – like wild rice with a deep, almost sweet flavor. The rice tasted unusual to me but it's definitely something I'll eat again in the future (Hey, I wanna live to the age of at least 106!).
I liked the entire meal combination of the asparagus and avocado (more foods I never liked until recently), with the fish. Like Helen, I used strip bass but as with all her fish recipes, she gives suggestions for fish substitutions. The dressing brought everything together. Delicious!
This may have been a meal from left over foods, but as I ate, I certainly felt like an Empress, in my own right, dining at a banquet table. Thanks, Helen!
Paz
Ed. Note: I've been asked where I got the legend information on Forbidden Rice (as well as the name). It's printed on the back of the rice package I bought. The rice is imported by a company called Lotus Foods. According to Helen's post, she found her information at the same place. This is what's printed on my package:
Legend tells us that Forbidden Rice was once grown exclusively for the Emperors of China to enrich their health and ensure their longevity.
Today, this heirloom rice is prized for its fragrant aroma, nutty taste, eep purple color and nutritional value. It pairs beautifully with fish, meat and colorful vegetables. An everyday favorite — use steamed, in pilafs, stir-fries, and salads.
* Cooks in 30 minutes * Gluten free, wheat free * High in iron * A whole-grain rice * Non-GMO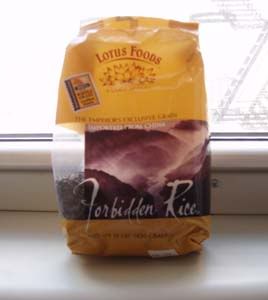 Package of Forbidden Rice
CLICK ON PHOTO FOR LARGER IMAGE
Helen's Fish Salad with Forbidden Rice
Fish substitutions:
any fin fish or shell fish leftovers. Hey, this can even work with chicken!
Serves 4
For the salad:
1 cup your favorite interesting rice (purple, wild, or brown)
2 tsp olive oil
1/2 Lb asparagus, trimmed, cut into 1 inch lengths
1 Lb leftover fish fillets, skin removed and flaked
1/4 cup thinly sliced red onion
2 avocados, peeled and sliced
1/4 cup chopped parsley, cilantro, mint, or basil
For the dressing:
2 Tbsp lemon or lime juice
2 anchovy fillets, mashed to a paste (optional)
3 Tbsp olive oil Salt and pepper to taste
Cook rice according to package instructions. Cool completely.
Set a large skillet over high heat. When preheated add oil and asparagus and cook stirring occasionally until tender, but not mushy, about 5 minutes. Take off heat and cool.
In a large bowl combine rice, asparagus, fish, onions, avocados, and herbs. The salad can be prepared up to this stage a day in advance, covered, and stored in the fridge.
Whisk all the dressing ingredients together and pour over salad. Season to taste with salt and pepper and mix well.
Asparagus, onions, avocado, cilantro
Cooking the asparagus