April 9, 2006 | Filed Under Baking, Chocolate Chip Banana Muffins, Muffins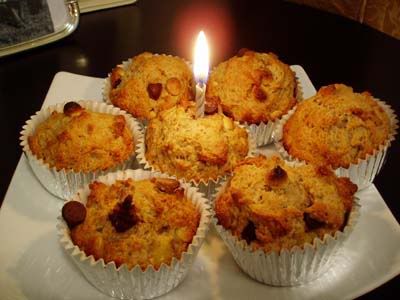 These muffins are made in celebration of Jan's birthday. She's such a witty and fun-loving person.
I got the recipe from Tania and made some minor adaptations to the recipe:
She made mini muffins but I made mine regular size. It calls for semi sweet chocolate chips, but I didn't have enough, so I added white chocolate chips.
The recipe also calls for ground allspice. I didn't have that so I substituted it for cinnamon, which seemed to work well.
Lastly, the recipe mentions grated nutmeg. Instead I used a smaller amount of ground nutmeg.
The muffins taste good, especially with the banana and chocolate chips blended together.However, when I make this recipe again, I plan on leaving out the whole wheat flour. I prefer the taste of the All Purpose flour alone (although I'm sure the whole wheat makes the muffin healthier).
The muffins still taste good, so help yourselves, everyone to a Chocolate Chip Banana Muffin. There's plenty for everyone! I think they are perfect for a Sunday treat and birthday celebration.
Thanks for the recipe, Tania and Happy birthday, Jan!
Paz
Chocolate Chip Banana Mini-Muffins
adapted from Pillsbury's Best Muffins & Quick Breads1 cup all-purpose flour
1 cup whole wheat flour
1/2 cup sugar
2 tsp. baking powder
1/2 tsp. baking soda
1/2 tsp. grated nutmeg
1/8 tsp. salt
1/8 tsp. ground allspice
1 egg
1/2 cup buttermilk
1/2 cup mashed ripe banana
1/3 cup oil
2/3 cup semi-sweet chocolate chips
Preheat oven to 400F.
Spray 36 miniature muffin cups with nonstick cooking spray or line with paper baking cups.
In a large bowl, combine all-purpose flour, whole wheat flour, sugar, baking powder, baking soda, nutmeg, salt, and allspice. Mix well.
In a small bowl, beat egg. Add buttermilk, banana, and oil. Mix well.
Add to flour mixture along with chocolate chips. Stir just until dry ingredients are moistened.
Divide batter evenly into prepared muffin cups, filling each 2/3 full.
Bake in prepared oven for 10 to 15 minutes, or until muffins are light golden brown and toothpick inserted in center comes out clean.
Immediately remove from pan. Serve warm.
Makes 36 mini-muffins.
Enjoy!
Comments