February 24, 2006 | Filed Under Food Blogging Events, From My Rasoi, Weekend Herb Blogging | Leave a Comment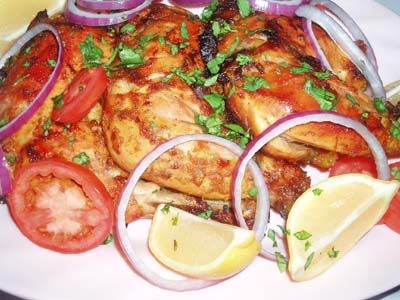 I recently made My Dhaba's Tandoori Chicken recipe for my family. They loved it. Another first time recipe preparation for me, it became another winner! Yay!
The recipe is fairly simple, so that a beginner like me can follow it without any problems. The only hard part (not really hard) was to remember to prepare the chicken ahead of time. I had to remember to start early in order to allow the chicken to have time to marinate (a minimum of two hours) before cooking.
The ingredients were easy to find, and as a matter of fact I already had most of them and didn't need to go searching through different stores for them — something I usually do.
I made a spice mixture out of ginger, garlic, onions, cinnamon, salt, garlic, red chili, cumin, black pepper, coriander, turmeric, nutmeg, and paprika. What an impressive list of spices. There was a party going on in the bowl as I mixed them together!
According to the instructions, I covered the chicken with the spice mixture and yogurt, and sprinkled it with vinegar.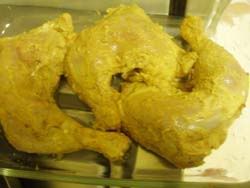 The marinated chicken before it goes into the oven
After it marinated for the minimum amount of time, I put it in the oven.
I garnished the prepared Tandoori Chicken with red onions, tomatoes, lemons, and one of my favorite fresh herbs — cilantro leaves — and served it with rice.
It was a delicious meal, made with love and those who ate it loved it. I didn't hear one word of complaint.
Thanks, My Dhaba, for the delicious recipe, which you can find here.
I'm submitting this recipe to the From My Rasoi # 3 event. The theme for this month's event is: "A way to one's heart is through their tummy!" The participants are asked to make a dish (Indian) that their loved ones would love — Cooking for love!
Also, I'm submitting this same dish for the Weekend Herb Blogging #21 event. It contains tomatoes, and fresh cilantro leaves.
Paz
A plate of My Dhaba's Tandoori Chicken and rice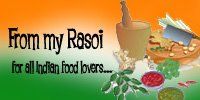 You can find the list of scrumptious meals for this event on Hooked on Heat!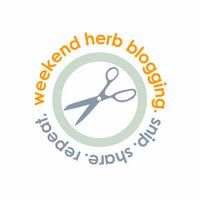 *One can blog about herbs, plants, vegetables, or flowers for Weekend Herb Blogging (WHB). To see the list of other interesting WHB posts, go to Kalyn's Kitchen, Sunday.