November 26, 2005 | Filed Under Weekend Herb Blogging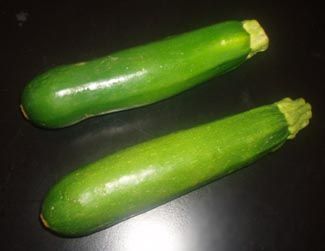 For Weekend Herb Blogging, one can post about herbs, plants, vegetables or flowers. This weekend, I'd like to feature the vegetable zucchini (also known as a courgette) since that what I have in my fridge.
I've never been a big fan of zucchini, but after the start of my cooking adventures, I've come across a lot of different ways to make this dark green, cylindrical-shaped vegetable. So far, they've tasted pretty good and I find myself liking them more and more.
My first introduction to the fact that zucchini grow with flower heads came from reading Melissa's blog about Squash Blossom Soup. The vegetable grows beautiful orange, greenish, yellowish buds that remind me of a colorful elongated bell. Later I saw other recipes for the blossoms from Johanna's Stuffed Courgette Flowers drizzled with Honey post and Alberto's post on Sciurilli (fried zucchini blossoms). Definitely check out the recipes and beautiful photos. By the time I went to look for the blossoms, they were out of season. I plan on making sure that I don't miss them next season. Luckily, the zucchini minus it's flower is available all year around.

While watching T.V. cook personality Lidia Bastianich demonstrate several delectable Italian meals for her viewers, her Poached Zucchini dish caught my eye. The main ingredients consist of zucchini, red onions, and boiled eggs.
Here are the basic instructions:
Put some zucchini in boiling water – I used four.
Don't cut the ends yet because they will absorb a lot of water.
Don't add salt or pepper yet.
After a few minutes, when the zucchini turn firm, yet are soft to the touch, remove them from the boiling water.
Wait 20 minutes for the zucchini to cool, and then cut them into chunks. For large zucchini, Lidia suggests using a spoon to scoop out the seeds.
Mix the sliced red onions with the zucchini; then sprinkle salt and freshly ground pepper over the mixture.
Add extra virgin olive oil and wine vinegar and toss the combination with a fork.
Lastly, quarter two hard-boiled eggs and added them to the zucchini salad, tossing the salad gently so that the eggs don't break up.
And that's it! what an easy-to-make and tasty salad!
Check out Kalyn's Kitchen on Sunday for a round up of the other Weekend Herb Blogging posts.
Paz

Poached Zucchini
Comments