November 13, 2005 | Filed Under Beyond Salmon blog, Fellow Bloggers, Seafood, Stripped Bass
Seared Striped Bass with Orange Gremolata was on the menu for dinner. Very tasty, indeed. This recipe comes from Helen.
First, I prepared the gremolata, which consisted of orange parsley, and garlic. Very easy.
Next, I made the Balsamic vinegar mixture (olive oil, balsamic vinegar, orange juice and salt) and set it aside.
Then I prepared the fish fillets in a large nonstick skillet. Within a few minutes, the fish was ready and enjoyed by all!
Paz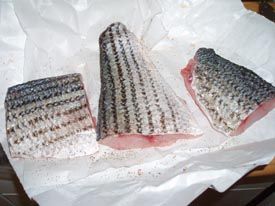 Wild Striped Bass
Comments