October 19, 2005 | Filed Under Latin Recipes, Sofrito | 1 Comment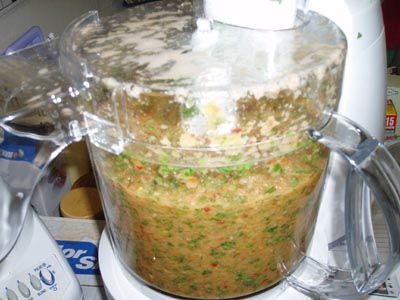 When I make certain Latin recipes like rice and beans, macarroni with chicken, or a simple sauce, part of the ingredients I use include sofrito — the special base used in many Latin recipes. It is also used to flavor other dishes like chicken and sautéed shrimp. You can buy the sofrito from a store that sells Latin food products or you can make your own from scratch. I've found that I prefer the homemade version by T.V. Cook Daisy Martinez. I love the smells of the fresh cilantro, sweet peppers, garlic, onions, tomatoes, and ajicito dulces as they are pureed in the food processor. It's as if the sofrito brings life to the kitchen aromas and meal preparation. It tastes very good, and adds an extra special flavor to the dish. As the sofrito recipe suggests, I store the rest of it in the fridge or freezer to use when needed. Paz
Sofrito
Makes about 4 cups.
If you can't find ajices dulces or culantro, don't sweat. Up the amount of cilantro to 1 ½ bunches.
2 medium Spanish onions, cut into large chunks

3 to 4 Italian frying peppers or cubanelle peppers

16 to 20 cloves garlic, peeled

1 large bunch cilantro, washed

7 to 10 ajices dulces (see note below), optional

4 leaves of culantro (see note below), or another handful cilantro

3 to 4 ripe plum tomatoes, cored and cut into chunks

1 large red bell pepper, cored, seeded and cut into large chunks
Chop the onion and cubanelle or Italian peppers in the work bowl of a food processor until coarsely chopped. With the motor running, add the remaining ingredients one at a time and process until smooth. The sofrito will keep in the refrigerator for up to 3 days. It also freezes beautifully. Freeze sofrito in ½ cup batches in sealable plastic bags. They come in extremely handy in a pinch. You can even add sofrito straight from the freezer to the pan in any recipe that calls for it in this book.
Pantry Notes: Ajices Dulces, also known as cachucha or ajicitos are tiny sweet peppers with a hint of heat. They range in color from light to medium green and yellow to red and orange. They add freshness and an herby note to the sofrito and anything you cook. Do not mistake them for Scotch bonnet or Habanero chilies (which they look like)—those two pack a wallop when it comes to heat. If you can find ajicitos in your market, add them to sofrito. If not, up the cilantro and add a pinch of cayenne pepper. Culantro is not cilantro. It has long leaves with tapered tips and serrated edges. When it comes to flavor, culantro is like cilantro times ten. It is a nice, not essential addition to sofrito. (See Sources for both the above.)