October 21, 2005 | Filed Under Red Snapper, Seafood, Tomato and Green Olive Salsa, Vinaigrettes/Salsas/Sauces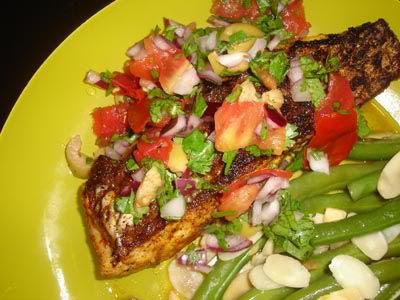 After watching one of Rachael Ray's 30-Minutes Meals shows, I became anxious to try her Grilled Spanish-Style Snapper with Tomato and Green Olive Salsa. I finally got a chance and bought my ingredients from the new Citarella store in my neighborhood. They sell fresh fish, meat and good vegetables. Here's there recipe:
Grilled Spanish-Style Snapper with Tomato and Green Olive Salsa
4 (8oz) portions of red snapper fillet
Extra Virgin Olive Oil for drizzling
1 ½ tsp (1/2 palmful) cumin
1 ½ tsp (1/2 palmful) sweet paprika
1 tsp (1/3 palmful) coarse salt
1 tsp (1/3 palmful) black pepper
1 tsp (1/3 palmful) coriander
Tomatoes and Green Olive Salsa:
3 plum tomatoes, seeded and chopped
Handful of cilantro, finely chopped (You can substitute with flat leaf parsley)
½ small red onion, chopped
12 large green olives cracked from pits and coarsely chopped
1 lime, juiced
1 tsp crushed red pepper flakes
Preheat grill pan; drizzle snapper with extra-virgin olive oil; combine spices in a small bowl; rub fish with spice mixture; cook fish for 5 minutes skin side down first; turn the fish and cook for 5 to 6 minutes longer; combine salsa ingredients in a small bowl and allow it to marinate until ready to serve. To serve, plate spiced snapper with a generous serving of salsa.
First, I prepared the salsa and let it sit before starting with the snapper. I enjoyed all the chopping involved to make the salsa. My favorite part of the process was chopping the cilantro on my new cutting board — a nice, big, wooden one. As soon as the knife hit the cilantro on the board, it's distinct smell wafted towards my nose and had me salivating in anticipation of the finished meal. I love cilantro. It not only brings color to the dish but tastes so good with the tomatoes, lime, and green olives.
Next, I concentrated on the red snapper, prepared on my handy small grill pan. The aroma of the spices floated up into the air. From the smells alone, I knew it would be a good meal.
While waiting for the fish, I started on the green beans with toasted almonds that Rachael suggests goes well with the snapper. It's another simple recipe:
Green Beans with Toasted Almonds
1 ½ pounds fresh green beans, trimmed
1 Tbs (1 turn around the pan) Extra Virgin Olive Oil
1 Tbs butter
Salt
Toasted slivered or sliced almonds for garnish
Cook green beans for 5 minutes in one inch boiling water, covered; drain beans and return the pan to the heat; add the oil and butter to the pan; toss the beans in the oil and melted butter; season the beans with salt and transfer to serving plate; garnish the green beans with the toasted slivered or sliced almonds.
Rachael also recommends a sangria to drink with this meal. She calls her special mixture, Sunset Sangria. I haven't made it yet. When I do, I'll let you know how it tastes, but I can tell you that the snapper, topped with the salsa, and served with the green beans with toasted almonds was very good.
Paz
Comments