September 19, 2005 | Filed Under Latin Recipes, Latin Recipes, Rice
I saw this recipe demonstrated on Sara Moulton's cooking show, on the Food Network channel. She had guest chef Juventino (love the name Juventino!) Avila cooking with her, and they prepared dishes mainly from the Dominican Republic. Out of the three recipes prepared on the show, I tried the rice and beans recipe first. I've made this recipe twice and both times, my rice and beans have come out GREAT!
The recipe includes black beans, long grained white rice, diced white onion, diced green peppers, garlic, store-bought sofrito, oregano, ground cumin, chicken stock and salt and pepper.
The second time I made the arroz con habichuelas (rice and beans), just before I started to cook, I discovered that I'd forgotten to buy the sofrito, which is an important part of the recipe because it is the base of Dominican cuisine (and a lot of Latino cuisine, in general). Sofrito consists of vegetables, spices and herbs that are sautéed together and cause the flavors to come out even more.
Luckily, I had the recipe for fresh sofrito from Latina T.V. Chef Daisy Martinez. I had most of the ingredients on hand (and what I didn't have, I improvised). So, I ended up making my own sofrito from scratch. I'm telling you, I impressed myself.
Now that I've tasted the difference between the store-bought and freshly made sofrito, I find that I prefer the fresh one to use in my cooking; and now that I know how to make it, I don't mind going the extra step to make it.
Paz
Rice and beans: Moros y Cristianos (Arroz con Habichuelas)
1 1/2 cups Goya dried black beans (or canned pre-cooked) 3 cups long-grain white rice 2 1/2 cups white onion, diced 2 1/2 cups green peppers, very small dice 1/4 cup olive oil, for sauteing 4 garlic cloves, crushed and chopped 1/2 cup sofrito 1/2 teaspoon tomato paste 1 teaspoon dried oregano 1 tablespoon ground cumin 1 bay leaf 4 1/2 cups chicken stock Salt and pepper Cover the dry beans with water in a large pot. Do not salt the water. Bring to a boil. Reduce heat to medium-low, cover and cook until tender, about 1 hour.
Rinse the rice with cold water until the water runs clear.
Use a large, 8-quart covered stockpot. Saute the onion and green pepper in the olive oil until tender. Add the garlic and sofrito and saute another 1 to 2 minutes. Add the tomato paste, black beans, oregano, cumin and bay leaf. Cook for about 5 minutes, stirring gently.
Add the chicken stock and the rinsed rice. Season with plenty of salt. Bring to a boil, reduce heat to low, cover and cook for about 20 to 30 minutes, or until rice is fully cooked.
Sofrito
Makes about 4 cups.
If you can't find ajices dulces or culantro, don't sweat. Up the amount of cilantro to 1 ½ bunches.
2 medium Spanish onions, cut into large chunks

3 to 4 Italian frying peppers or cubanelle peppers

16 to 20 cloves garlic, peeled

1 large bunch cilantro, washed

7 to 10 ajices dulces (see note below), optional

4 leaves of culantro (see note below), or another handful cilantro

3 to 4 ripe plum tomatoes, cored and cut into chunks

1 large red bell pepper, cored, seeded and cut into large chunks
Chop the onion and cubanelle or Italian peppers in the work bowl of a food processor until coarsely chopped. With the motor running, add the remaining ingredients one at a time and process until smooth. The sofrito will keep in the refrigerator for up to 3 days. It also freezes beautifully. Freeze sofrito in ½ cup batches in sealable plastic bags. They come in extremely handy in a pinch. You can even add sofrito straight from the freezer to the pan in any recipe that calls for it in this book. Pantry Notes: Ajices Dulces, also known as cachucha or ajicitos are tiny sweet peppers with a hint of heat. They range in color from light to medium green and yellow to red and orange. They add freshness and an herby note to the sofrito and anything you cook. Do not mistake them for Scotch bonnet or Habanero chilies (which they look like)—those two pack a wallop when it comes to heat. If you can find ajicitos in your market, add them to sofrito. If not, up the cilantro and add a pinch of cayenne pepper. Culantro is not cilantro. It has long leaves with tapered tips and serrated edges. When it comes to flavor, culantro is like cilantro times ten. It is a nice, not essential addition to sofrito. (See Sources for both the above.)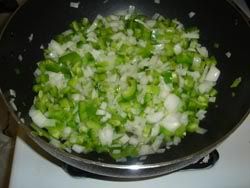 Diced onions and green pepper in pan
Beans and sofrito added to the pan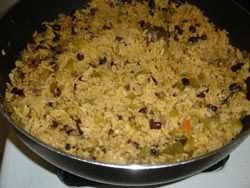 Rice added to the pan
Comments