September 26, 2005 | Filed Under Salmon, Seafood | Leave a Comment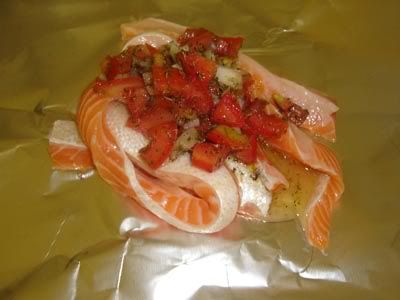 Salmon about to be baked in foil
Here's a quick and easy salmon recipe by Giada DeLaurentiis. I love salmon and even before I took up the interest in cooking, preparing salmon featured in my very limited cooking repertoire. I had the simplest method – rub salt, pepper, and olive oil on the fish before putting it in the oven.
Well, this Salmon Baked in Foil recipe is not hard to prepare and adds extra ingredients (tomatoes, shallots, lemon juice, dried oregano and thyme) to the fish, which gives it an extra special taste and something more special to look at in its presentation.
Paz
Note:
* Instead of salmon, you can also use Halibut, Swordfish or Red Snapper fillets.
* When you use the fresh tomatoes, you don't need to seed it.
* Use dry herbs for this recipe because the flavors are more intense than the fresh herbs.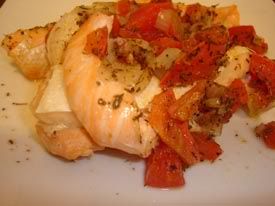 Baked salmon straight from the oven
Salmon Baked in Foil
4 (5 ounces each) salmon fillets 2 teaspoons olive oil plus 2 tablespoons Salt and freshly ground black pepper 3 tomatoes, chopped, or 1 (14-ounce) can chopped tomatoes, drained 2 chopped shallots 2 tablespoons fresh lemon juice 1 teaspoon dried oregano 1 teaspoon dried thyme
Preheat the oven to 400 degrees F.
Sprinkle salmon with 2 teaspoons olive oil, salt, and pepper. Stir the tomatoes, shallots, 2 tablespoons of oil, lemon juice, oregano, thyme, salt and pepper in a medium bowl to blend.
Place a salmon fillet, oiled side down, atop a sheet of foil. Wrap the ends of the foil to form a spiral shape. Spoon the tomato mixture over the salmon. Fold the sides of the foil over the fish and tomato mixture, covering completely; seal the packets closed. Place the foil packet on a heavy large baking sheet. Repeat until all of the salmon have been individually wrapped in foil and placed on the baking sheet. Bake until the salmon is just cooked through, about 25 minutes. Using a large metal spatula, transfer the foil packets to plates and serve.